If you go on Instagram and have a look at celebrities' extravagant parties, chances are you will find some black and white pictures taken at a photo booth they exclusively hired for their guests. But how difficult is it to have a photo booth at your party?
Doing some research, you will find that photo booths are becoming more and more popular at wedding receptions, birthday parties and other events and that's for two main reasons: they're fun and affordable!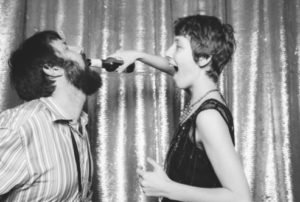 (Source)
How much does it cost to rent a photo booth?
Depending on where you live, you can find different companies that provide photo booth rental services. If you're based in Vancouver, however, know that Vancity Photo Booth is one of the Top 3 Photo Booth Companies in the city, offering a variety of packages that range from birthday parties to corporate events.
The starting price for the rental of a photo booth for a wedding reception is $400, which includes the possibility for your guests to record animated gifs, use the props given to them or share their pictures on social media.
Make sure you check the many packages available to know more about the different features and add-ons offered for every event.
The most popular photo booth props
As it's been said, a photo booth is a source of great entertainment at any event, from small wedding receptions to bigger corporate events and using props adds even more fun to the experience!
Of course, different props are suitable for different events and, if you're having a themed birthday party, you might want to choose props that are relevant to your theme. The same goes for your backdrop, which should match the theme of your event, like the glamorous Honey Sequin backdrop, perfect for a Charleston themed party.
(Source)
Vancity Photo Booths offer many different Backdrops, large enough to fit up to 12 people in the shot. Backdrops range from sequin, fabric, flower walls, and even a beautiful greenery hedge.
The choices are endless when picking a backdrop to match the theme of your event.
What should I consider before hiring a photo booth?
To help you in this process choose the perfect photo booth for your event, here's a list of the things to keep in mind when hiring a photo booth.
Is your venue suitable for a photo booth?
One of the things to consider is whether there will be enough space to fit a photo booth in your chosen venue. If you're having your party outdoors, then make sure that your chosen photo booth rental company will allow you to have a photo booth outdoors. Companies usually allow that, as long as there's an available power source in proximity of the booth and this is fully covered in case of rain. The photo booth can fit in the smallest of areas, and can still keep all the guests entertained.
Does your photo booth rental include props and backdrops?
Based on the package you choose, you can access different add-on options and features. Vancity Photo Booth offers free themed props and backdrops which will save you from the hustle of having to find props for your party.
Will you receive printed photos?
Vancity Photo Booth allows you to instantly share your photos on social media and, thanks to the online photo gallery and download service, you can store your photos on your laptop. Depending on the package you choose, you can also have a printed copy of your photos, with a choice of matte or gloss photo paper.
(Source)
Not every photo booth rental company offers print, so always double check to make sure that you will get printed copies as pictures make some great memories!